Fiction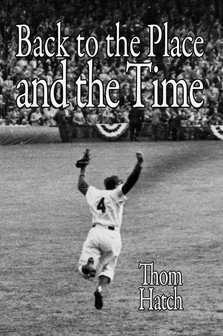 BACK TO THE PLACE AND THE TIME
Previously Published - Out of Print
Available for Publication

Our story finds retired school teacher John Ripley and his 12-year-old granddaughter, Jordyn, attending a Colorado Rockies baseball game at Coors Field in Denver. The thrill of being inside this sacred green cathedral has John and Jordyn reminiscing about how John had lost the opportunity as a hotshot 17-year-old shortstop to play professional baseball. Unfortunately for him, John had enlisted in the United States Marine Corps just days before he was contacted by a Chicago White Sox scout. He entered the service, suffered a disabling wound in Vietnam, and could never play baseball competitively again. He had spent a lifetime wondering "what if?"

During the course of the game, John is distracted when a foul ball heads toward their section. He is struck in the temple by the ball and falls unconscious. To the medical staff, John has gone into a deep coma. To John Ripley, however, he has gone back to the place and the time of his youth--and he isn't going to return anytime soon.

It turns out that young Johnny Ripley had failed to sign his final enlistment papers for the Marines and is free to sign to play professional baseball. This second chance opens the door to a magical odyssey of baseball that has Johnny playing rookie ball while showing up the number one prospect in baseball. By the end of the season, he is playing a game in Yankee Stadium against the legendary Mickey Mantle and home run king Roger Maris and at bat facing Hall of Fame pitcher Whitey Ford.

During this game Johnny is beaned by the ball. While in a delirious state, he is shown the pathway back to his old retired life but also realizes that, if he chooses, he can stay where he is and play baseball. After such youthful success on the field, will Johnny return to his old life or remain locked forever in his baseball fantasy? The thought-provoking ending will cause the reader to fall in love with baseball all over again.

Plausible yet fanciful, BACK TO THE PLACE AND THE TIME introduces a host of fascinating characters, episodes of adventure, romance, drama, humor, and the conflicts facing a boy coming of age. Most of all, this book offers readers a most pleasant, uplifting, and unique taste of baseball when baseball was the national pastime and young men played for the love of the game.
---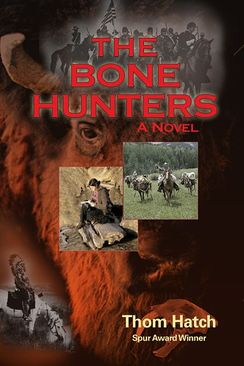 THE BONE HUNTERS
Previously Published - Out of Print
Available for Publication

In this armchair adventurer's great escape, paleontology professor and Civil War cavalry veteran Benjamin Franklin Randolph leads an 1871 scientific expedition into the rugged badlands of the American West to dig into the earth's crust for the fossilized remains of extinct creatures.

Ben Randolph and his party of college age volunteers from the East are escorted by cavalrymen and accompanied by the young, outspoken suffragette daughter of an army colonel and her feisty chaperone who makes Calamity Jane look like a prissy school marm. These bone hunters experience arduous travel in challenging terrain, extreme weather conditions, hostile Indians, a dangerous outlaw gang, and indigenous pests and predators.

The story is not all hardship, however. Our scholarly explorers celebrate the thrill of discovery, the wonders of nature, a sense of camaraderie, and occasions of humor. The discoveries and methods are historically accurate, as are historical events and period culture. To add to the authenticity, real frontier figures play relevant roles in the story, including Buffalo Bill Cody, George Armstrong Custer, Russian Grand Duke Alexis, and Lakota Sioux warrior Pawnee Killer.

The conclusion comes by way of a heart-stopping scene that has never before graced the pages of a book.
---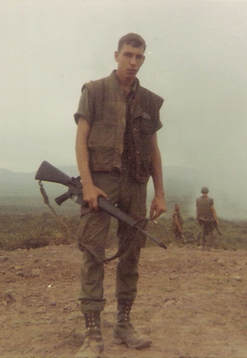 CASUALTY CALL
Available for Publication

I am a Marine Corps Vietnam veteran. And I have a unique story to tell.

During the Vietnam Conflict, I had the dubious distinction of experiencing life-altering events on both sides of the pond—as a United States Marine in a rifle company in South Vietnam and also as a stateside Marine stationed on independent duty in the Midwest.

I served my stateside duty as a member of an Inspector-Instructor Staff, seven Marines and one Navy corpsman, who were stationed in a city where our daily duty brought us in close contact with a civilian populace that, to say the least, was not sympathetic to military personnel. We were stationed at the edge of town inside a compound surrounded by a high fence with concertina wire on top, but we were obliged to live alone or, if married, with our families in housing within the city proper. We were expected to assimilate into this hostile society as best as possible.

Our primary mission was to train a Marine Corps reserve company on one weekend out of the month. The rest of the time entailed handling administrative duties, readying weapons and equipment, public relations, and providing support for military dependents in the area—with one exception that none of us had ever imagined we would face as Marines.

The phone would ring and on the other end of the line would be the office of the Commandant of the Marine Corps in Washington informing us that a fellow Marine from our area had been severely wounded or killed in South Vietnam. Two of us would then visit the unwitting next of kin to deliver in person the tragic first news that their son or their husband had been wounded or killed in action. None of us had been trained for this type of duty and simply had to summon up our military discipline to help us through it. These dreaded visits were known as "casualty calls."

Needless to say, the reaction of the victim's kin when we related the news that would change their lives forever was always horrifying, and rightfully so. The casualty call not only affected them, however, but touched us Marines as well with emotions and visions that have followed us throughout our own lives as much as have combat experiences. To a man, we swore at the time that we would rather be serving in Vietnam under heavy enemy fire than on Inspector-Instructor duty in order to escape the hell of those damnable casualty calls.

My novel, CASUALTY CALL, centers around the daily lives of a group of seven fictitious United States Marines serving on Inspector-Instructor duty, their families, and those civilians within the community with whom they interact. In addition to delivering bad tidings now and then, these diverse and colorful Marines would wrestle with demons from combat during tours of duty in Vietnam, triggered in some cases by residing in a society that is coming apart at the seams over the right and wrong of the War. These men try their best to carry on with daily life and raise their families while ignoring the protests and vilification from those who chose to oppose the Vietnam War.

Our story is not all trauma and tragedy, however. There are plenty of episodes of humor, romance, adventure, and playfulness, because, let's face it, Marines will be Marines. News events, social fads, movies, and music of the day are generously depicted, which adds to the richness of the narrative.

CASUALTY CALL offers an exclusive glimpse inside the Marine Corps culture, with plenty of battle action, during an era that tested the patriotism of every American. It is an accurate portrayal of the people who were actually fighting that war. I honestly do not believe that the whole story of the Vietnam Era can be adequately documented without this book as a prominent part of the bibliography. It could be said that this book symbolizes the ultimate defeat of the Vietnam veteran at the hands of their peer society, a stigma that remains to this day.
---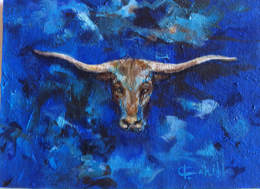 LEATHERWOOD
Available for Publication

Seventy-year-old Montana cattle rancher Noble Leatherwood, a former rodeo rider, harbors a secret that he has not revealed even to his wife, Mary Anna—he has been given only six months to live. After serious deliberation, Leatherwood has decided that he does not want to start a depressing death watch. Instead, he chooses to keep silent about his illness and simply live his normal daily life, as if nothing is going to end.

We follow Leatherwood during the operation of his cattle ranch, which includes help from his son, Ethan, who maintains his own herd on the property as well. Leatherwood and his son perform the daily chores necessary for the ranch to prosper, such as mending fence, repairing windmills, nursing ailing cows, branding calves, and hauling hay out to the pastures to feed the animals. Leatherwood relishes saddling up his horse, Ranger, and, in the company of his Border collie companion, riding the range tagging and protecting newborn calves.

The Leatherwood Ranch, however, is not just a two-man operation but a family enterprise. We enter the lives of Ethan's wife, Juliet, a part-time bank teller, and their children, seventeen-year-old Wyatt, a handsome, free-spirited Lothario, and golden-haired Daisy, a fifteen-year-old aspiring barrel racer and drama queen. Both siblings have set their sights on winning rodeo events at the upcoming county fair, which could result in a college scholarship for Wyatt and an opportunity to turn professional for Daisy.

Two other prominent ranch residents are Sadie Moonflower, a Native American housekeeper and artist, and Dexter Flanagan, the physically-challenged stableman who has a hidden past. Another Leatherwood son, Ethan's brother, Brandon, has inexplicably vanished and has not contacted his anxious parents in years.

In addition to celebrating the country lifestyle, the Leatherwoods encounter a series of random conflicts that threaten their hardworking way of life. How they overcome these challenges is a tribute to benevolence, courage, and the resilience of the human spirit. In addition, Noble Leatherwood's relationship with his wife, Mary Anna, a former schoolteacher, is truly one of the great love stories of all time.

Inevitably, Leatherwood begins to suffer from the symptoms of his death sentence. By the end, he seeks peace on his own terms in settling the personal matters of his life and death.
---