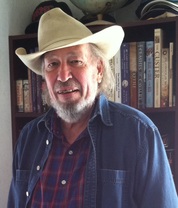 BIOGRAPHY OF THOM HATCH
Thom was born in Erie, Pennsylvania, and grew up on Grand Island, New York, just a few miles from the famous Niagara Falls, where he was a skillful baseball shortstop, a tricky pond hockey center iceman, and loved to tramp through the woods and fish in the river. He moved away prior to his senior year of high school to North Olmsted, Ohio, and after graduation enlisted at age 17 in the United States Marine Corps. His service included a 13 month tour of duty in the Republic of South Vietnam.

Following his honorable discharge from the service, Thom became a columnist for a newspaper in Erie, Pennsylvania, and also worked as a radio announcer during the late 1960s and early 1970s. After a brief stop in Memphis, Tennessee, he moved to Colorado in 1975, where he was held hostage by the business community until finally escaping to fulfill his lifelong dream of writing books.

Thom presently writes books, contributes to national publications including American Heritage, True West, and Western Horseman, as well as teaches school. He has served as consultant and appeared on screen as an expert commentator for History Channel and PBS documentaries, and is regularly invited to speak at high schools, colleges, seminars, and civic and historic organizations. In 2005, his Black Kettle: The Cheyenne Chief Who Sought Peace But Found War received the Spur Award for literary excellence as the best biography of the year from the Western Writers of America.

Thom currently lives with his award-winning artist wife, Lynn, and brilliant daughter, Cimarron, in Colorado horse and cattle country.

---
A Favorite Quote:
"It is not the critic who counts; not the man who points out how the strong man stumbles, or where the doer of deeds could have done them better. The credit belongs to the man who is actually in the arena, whose face is marred by dust and sweat and blood, who strives valiantly; who errs and comes up short again and again; because there is not effort without error and shortcomings; but who does actually strive to do the deed; who knows the great enthusiasm, the great devotion, who spends himself in a worthy cause, who at the best knows in the end the triumph of high achievement and who at the worst, if he fails, at least he fails while daring greatly, so that his place shall never be with those cold and timid souls who know neither victory nor defeat." —Theodore Roosevelt